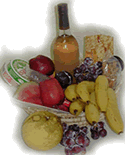 Unwrapped basket
---
Small Fruit Basket
Tropical fruit in season.
Mangos, Bananas, Passion Fruit,
Star Apples, Grapes etc,
Wine, cheese and crackers.

$50.00 USD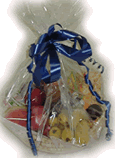 Wrapped basket
---
Tropical Fruit Basket
Tropical fruit in season.
Mangos, Bananas, Passion Fruit,
Star Apples, Grapes etc,
Wine, cheese and crackers.

$70.00 USD
(base price)
---
EXTRA'S!
Select a more expensive vintage, or change to Champagne. Perhaps you would prefer Non-alcoholic?
Add chocolates, or some of our local Coconut Ice, Tamarind Balls, Fruit Cheeses or Cocoa Sticks with Cinnamon (for a cup of hot cocoa tea).

Contact us for your special requests.
---
PLEASE NOTE
All above prices are VAT inclusive.
A small delivery fee maybe added depending on your island location.
Fruit baskets are only available on St Lucia.
Temperate Fruit Basket
Apples, Grapes, Pears etc,
with tropical fruit, Wine,
Cheese and Crackers

$70.00 USD
(base price)